Imaging Charge Transfer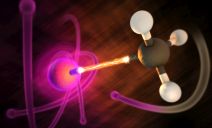 Ultrafast X-ray laser research led by Kansas State University physicists has provided scientists with a snapshot of a fundamental molecular phenomenon. The finding sheds new light on microscopic electron motion in molecules.
Artem Rudenko, assistant professor of physics and a member of the James R. Macdonald Laboratory; Daniel Rolles, currently a junior research group leader at Deutsches Elektronen-Synchrotron in Hamburg, who will be joining the university's physics department in January 2015; and an international group of collaborators studied how an electron moves between atoms in an exploding molecule.
Researchers measured at which distances between the two atoms the electron transfer can occur. Charge transfer processes — particularly electron transfer — are important for photosynthesis, in solar cells, and drive many other important reactions in physics, chemistry and biology. Their paper and a Perspective commentary on it appear in the journal Science, and K-State has a popular summary.
"There is a very fundamental question about how far an electron can go to reach the nearby atom in a molecule, and how probable that transition is," Rudenko said. "It has been difficult to capture images of this motion because of the very short times and very small distances that need to be measured."