The Optical Society Centennial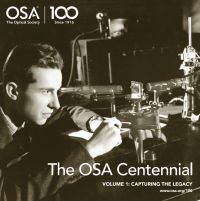 In 2016 The Optical Society (OSA) will be highlighting its past, present and future on the occasion of its 100th anniversary. Various events and a special web site will focus on where the society is today, and on its future.
Founded in 1916, OSA is the leading professional association in optics and photonics, home to accomplished science, engineering, and business leaders from all over the world. Through world-renowned publications, meetings, and membership programs, OSA provides quality information and inspiring interactions that power achievements in the science of light.
Many of the JRM faculty are OSA members, and we host a student branch known as the Kansas Optical Society (KOS). The KOS was established at Kansas State University in April 2013. Its mission is to gather students interested in optics and photonics in a causal environment to discuss science, promote optics knowledge in central Kansas, and foster professional development through various activities. Membership is open to any undergraduate or graduate student in the state of Kansas who is interested in expanding their knowledge in optics, photonics and other closely related fields.