Nobel Prize in Physics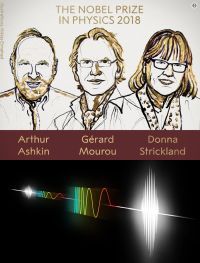 The Nobel Prize in Physics 2018 was awarded for groundbreaking inventions in the field of laser physics with one half to Arthur Ashkin "for the optical tweezers and their application to biological systems", the other half jointly to Gérard Mourou and Donna Strickland "for their method of generating high-intensity, ultra-short optical pulses".
Strickland and Mourou invented the chirped pulse amplification (CPA) technique for optical pulses used in the high-power ultrashort pulse lasers of the JRM Lab. JRM researchers have, in fact, enjoyed collaborations with Gérard Mourou.
The CPA technique proceeds in three steps: 1) an ultra-short laser pulse is stretched in time by several orders of magnitude, so that its peak power is correspondingly reduced, 2) it is amplified in a laser material without damaging it, 3) it is compressed in time back to its original duration, resulting in very high peak power. The short, powerful light generated makes possible the study of strong-field physics and high-speed interaction of light, atoms and molecules.