Attosecond & Strong-Field Physics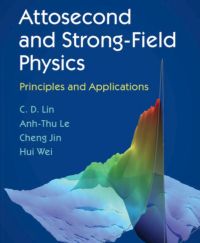 Present and past researchers with the JRM Lab have published a new book, Attosecond and Strong-Field Physics: Principles and Applications. The book is published by Cambridge University Press and will be available in print and electronic form in June from booksellers everywhere.
CD Lin, Anh-Thu Le, Cheng Jin, and Hui Wei collaborated to produce the volume. Aimed at beginning graduate students, the book provides an intuitive approach to these emerging fields, utilizing simplified models to develop a clear understanding of how matter interacts with intense attosecond pulses of light.
An introductory chapter outlines the structure of atoms and molecules and the properties of a focused laser beam. Detailed discussion of the fundamental theory of attosecond and strong-field physics follows, including the molecular tunnelling ionization model (MO-ADK theory), the quantitative rescattering (QRS) model, and the laser induced electronic diffraction (LIED) theory for probing the change of atomic configurations in a molecule. Highlighting the cutting-edge developments in attosecond and strong field physics, and identifying future opportunities and challenges, this self-contained text is invaluable for students and researchers in the field.