Nobel Prize in Physics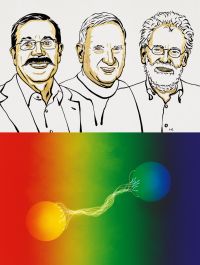 The Nobel Prize in Physics 2022 was awarded to Alain Aspect, John Clauser and Anton Zeilinger, who demonstrated the potential to investigate and control particles that are in entangled states. What happens to one particle in an entangled pair determines what happens to the other, even if they are really too far apart to affect each other. The laureates' development of experimental tools has laid the foundation for a new era of quantum technology.
The fundamentals of quantum mechanics are not just a theoretical or philosophical issue. Intense research and development are underway to utilise the special properties of individual particle systems to construct quantum computers, improve measurements, build quantum networks and establish secure quantum encrypted communication. This year's laureates have explored these entangled quantum states, and their experiments laid the foundation of the revolution currently underway in quantum technology.
A graduate of our AMO program, Hai Nguyen, served as a post-doc to Alain Aspect. Hai now works as a senior scientific advisor to the US Department of Defense and has twice returned to deliver colloquia.